---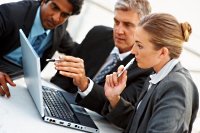 Many people need to put in 8 to 13 hours sitting at a computer for everyday work.  It is widely thought that prolonged sitting is detrimental to health, but no independent relationship with any mortality. It can cause many obvious health problems, including strain on the eyes, swelling in the legs, pain in the shoulders and neck, and difficulty seeing clearly at a distance.
Recent research reports important new findings from a large population-based study of 222,497 adults from the New South Wales, Australian and shows total sitting time to be associated prospectively with all-cause mortality after accounting for many likely confounding variables (van der Ploeg and colleagues). The population-attributable fraction for sitting was 6.9%. The association between sitting and all-cause mortality appeared consistent across the sexes, age groups, body mass index categories, and physical activity levels and across healthy participants compared with participants with pre-existing cardiovascular disease or diabetes mellitus.
Increasing physical activity in adult populations is central to the prevention of obesity and the major chronic diseases. Traditionally, the focus has been on encouraging individuals to participate in moderate-to-vigorous physical activity during their discretionary time, with a more recent emphasis on physically active transportation.
The research concluded that prolonged sitting is a risk factor for all-cause mortality, independent of physical activity. Public health programs should focus on reducing sitting time in addition to increasing physical activity levels.